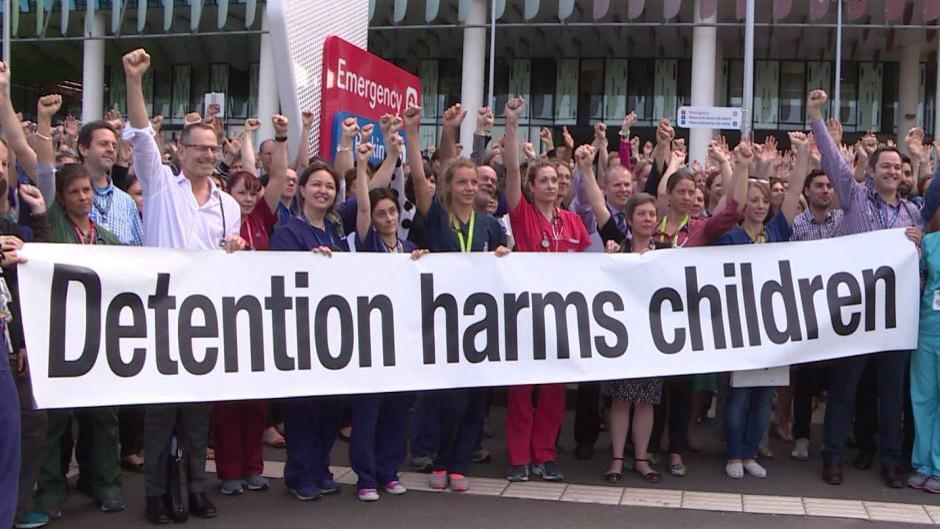 Over the weekend doctors at the Royal Children's Hospital (RCH), Melbourne, issued a statement voicing concern over returning to detention any asylum-seeker children who have undergone medical treatment. Some may argue that to return children via Border Force officials to the detention centres is tantamount to child abuse. A court injunction, seeking to prevent the return of any children to a detention centre, together with community support, may also be needed should there be a standoff between hospital staff and the Department of Immigration & Border Protection. Hopefully, this will be unnecessary if the Government adopts a different approach or if the current legal challenge to the constitutional basis of the offshore processing program by the Human Rights Legal Centre sees a ruling in their favour. In any case, ultimately asylum-seekers should be liberated and provided the opportunity to be welcomed in Australia. Meantime, below, is an uncompromising statement from the Australian Medial Association in support of the RCH doctors.
UPDATE: the RCH doctors stance has seen widespread support across Australia, when thousands marched over the weekend in Melbourne, Sydney, Brisbane, Perth and Canberra to demand the offshore processing program and its Nauru and Manus Island gulags be closed.
Note: Here are some background documents – a) an RCH Submission to the Human Rights Commission National Inquiry into Children in Immigration Detention 2014 and b) Asylum Seekers; a Disgraceful Episode in AustralianHistory (a Grand Rounds presentation at RCH).
Earlier this year a child with a mumber of health problems was transferred from a detention centre to the RCH, leading to a standoff of more than a four weeks while doctors said they could not clinically discharge the patient. Immigration guards were placed at the entrance to some patients' rooms, 24 hours a day, and this also enraged medical staff. Doctors at RCH believe they cannot ethically discharge patients if they are then returned to detention.
Statement by AMA:
The AMA supports the principled and ethical stance taken by Royal Children's Hospital (RCH) Melbourne doctors in raising concerns about the physical and mental health of children in immigration detention centres, and will call on Prime Minister Malcolm Turnbull to intervene with a compassionate and humane solution.
The doctors' concerns – stating that 'it's almost impossible to treat these children while they remain detained' – are detailed in an opinion article in today's Herald Sun newspaper.
AMA President, Professor Brian Owler, said today that all children being held in immigration detention centres should be immediately released to a safe environment.
"Some of the children being treated by the Melbourne doctors have spent half their lives in detention, which is inhumane and totally unacceptable," Professor Owler said.
"These children are suffering extreme physical and mental health issues, including severe anxiety and depression.
"Many of these conditions will stay with them throughout their lives.
"The high quality care and recovery they are receiving at the Royal Children's Hospital and other hospitals around Australia will be diminished once the children are returned to the detention centres.
"The detention centres are not suitable environments for the health of all detainees, but the effects on children are far worse.
"These poor people, whatever their circumstances, are in our care. We must stop this vicious cycle of harm.
"The Melbourne doctors are holding true to the ethics and principles of the medical profession in raising these concerns about the health of the detained children. The AMA strongly supports them."
The AMA will contact the Prime Minister and the Immigration Minister reiterating the AMA's calls for the release of children from detention, the appointment of an independent panel of medical experts to oversee the health care of detained asylum seekers, and a review of the Border Force Act, which allows heavy penalties, including imprisonment, for doctors who speak out about health standards in detention centres.