Today, the Hungarian police crossed a line. They tear-gassed and fired water-cannon at refugee children. Children who have left war zones. Children who have fled barrel bombs and chemical weapons. Children who left their homes in cities that no longer even have the appearance of cities anymore. Children whose loving parents only want to protect them, to give them a chance in life. Children whose parents have come to Europe because they had heard it is civilised…
BREAKING: 'KinderTransport' has now been provided. A special train transported 800 refugees from Tovarnik, near the Serbian border, and arrived in Dugo Selo, near Zagreb, around 03.30am (Thursday). Other trains/buses followed. A total of 4-5000 refugees now in reception centre in Jezevo, near Zagreb. MSF and IRC helped Croatian authorities in this endeavour. (Photo below shows refugees boarding buses at Zagreb).
…The children were screaming, crying, vomiting, unable to comprehend this new violence. The tear-gas missiles and the water cannons continued – over hours.
From Syria, the children have come. From Yemen, From Afghanistan. And from many other places. They have treked thousands of miles on foot, or any other way they can. These people – these children – have seen suffering – deaths of their family members, their friends, their neighbours. Some have seen torture too.
Now they come to Europe for protection, but as Europe dithers and Schengen collapses in middle Europe, Hungary stands in their way.
Hungary, today, is Europe's shame.
And any other country that does not not step forward to help these refugees is also guilty.
Those refugees who have already entered Hungary can now no longer cross its border into Austria (and from there to Germany) but are trapped and are either being deported back to Serbia (which Hungary classifies as a 'safe country') or are being detained in notorious camps where sedatives are used to keep inmates quiet and where 90% of applications for refugee status are rejected.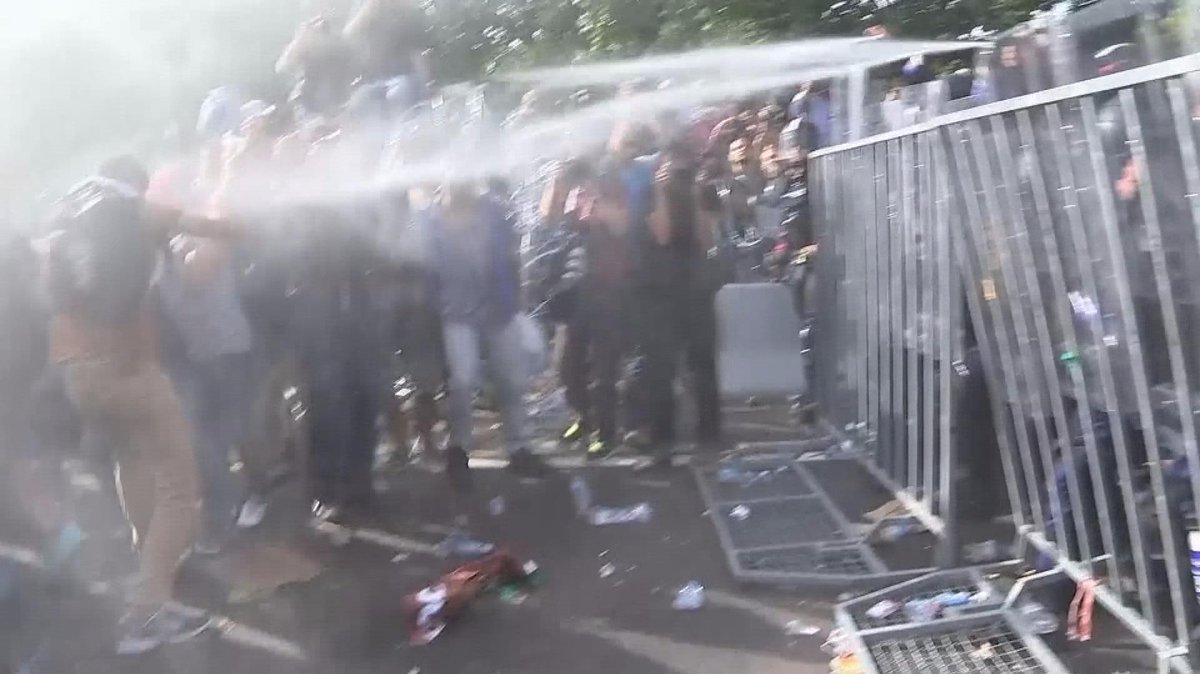 Those refugees who are in Serbia at the Hungary border are now trying to head north via Croatia. No one knows at this stage if they will be successful.
If the European Union cannot find a solution to this madness that sees thousands of impoverished, staring people in legal limbo, then decent, caring people across Europe must take action and intervene.
A new *'KinderTransport', similar to Nicolas Winton's endeavour, is needed for these refugees – but not just for children this – for all refugees.