The new Australian gagging law – the Border Force Act – is now operational as of July 1st. This is an immoral law that forbids Government contractors to report on abuse of detainees of all ages held in Australia's offshore refugee detention centres. This law is an affront to all Australian citizens, who have a clear moral duty not to abide by it and to break it. Meanwhile 40 former and current workers at the offshore detention centres have issued a direct challenge to the Government to prosecute them under this law – see letter at end of article.

Update… This article is dedicated to the memory of Sir Nicholas Winton, who died today age 106. Known as the 'British Schindler', he personally organised the evacuation of 100s of Jewish children from Nazi-occupied Czechoslovakia, prior to the outbreak of World War Two. He was a humble man, who for decades kept his exploits secret and who stands in stark contrast to those politicians today who lack such compassion and choose instead to lock children up.
Some doctors have already made it clear that their professional ethics hold such a law in contempt and that they are not afraid of breaking it. Yesterday one doctor, John-Paul Sanggaran, said that he will continue to report on abuse as necessary. And should the Government foolishly decide to prosecute someone for reporting abuse, a leading barrister has stated he will defend, pro bono, the right of that individual to do so.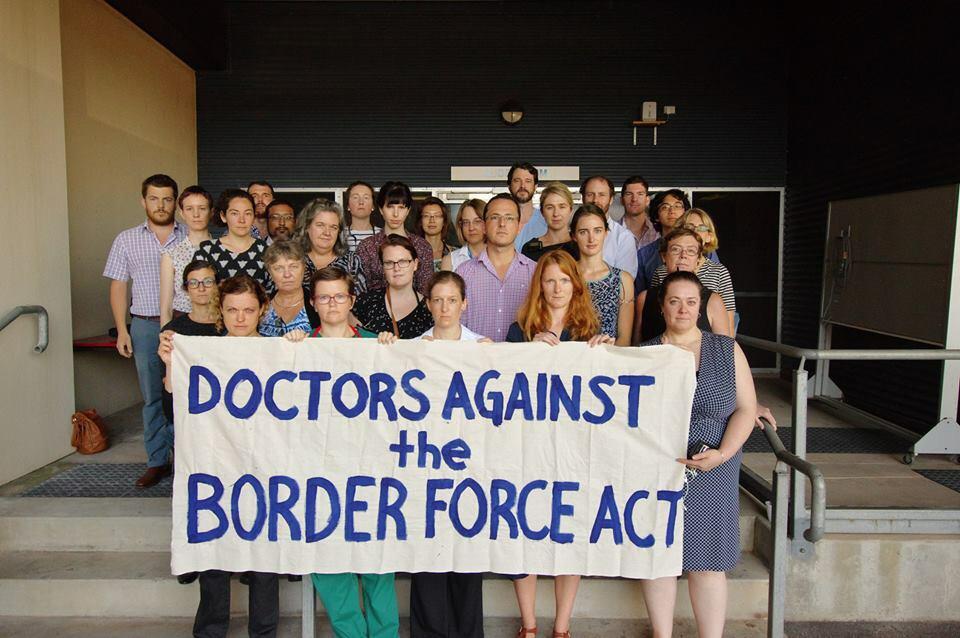 In any case, the gagging law is patently unworkable, in that it threatens sanctions – up to two years imprisonment – to the leaker and not to media outlets that publish the abuse details. Leakers are not stupid and under this new regime will invariably use one of several encrypted secure facilities (see end of article) to contact the media regarding their concerns. (However, media could face prosecution if they fail to hand over details of who has leaked, which is another reason why the use of encrypted/secure comms is essential for detention centre staff.)
It should also be noted that the leaks are continuing anyway, in that the deadline for submissions to the Senate Inquiry into abuse at the offshore detention centres has been extended (thus making a mockery of the gagging law).
One individual – Shane Bazzi – regularly publishes leaks of abuse and wrongdoings that take place at the Manus Island and Nauru detention centres (see some of the drawings, photos, etc he received). The latest leaks were published on Monday and Wednesday (about sexual assault and self harm – click here). Should this blog, or any other site that publishes leaks, be taken down as a result of the new law (this is highly unlikely, given that the law only applies to Government contractors at Manus and Nauru) previous postings on the site can be easily viewed by the Wayback Machine (an archive of websites from around the world).
Mr Bazzi, by the way, also tweeted details of how Transfield, the company that has the main contract at Manus Island and Nauru, has been monitoring Twitter accounts of people or organisations that have tweeted about the detention facility on Manus. This evidence provided by Mr Bazzi covers the period from 20/11/14 to 27/11/14. His Twitter account is listed in the evidence, as also that of Julian Burnside QC.
In the meantime the Guardian reported that the current secretary of the immigration department, Michael Pezullo, personally referred stories about asylum seekers by journalists from Guardian Australia, news.com.au and the West Australian to the Australian federal police with a view to identifying and prosecuting whistleblowers under an existing disclosure offence in the Crimes Act.
It's also worth noting, as UndercoverInfo has previously pointed out, that the Migration Amendment (Regional Processing Arrangements) Bill 2015, which was passed a few days ago as emergency legislation, only applies to the resourcing (funding etc) of the offshore detention facilities, not to their legal status. This legal status is being challenged by the Human Rights Law Centre and a hearing in the High Court will be heard later in the year. In the meantime, it can be argued that until the High Court rules on this matter we should assume that the detention facilities are not legal – as such, in this 'limbo' period lawyers could appeal to the courts to rule that all detainees should be released and the detention centres closed.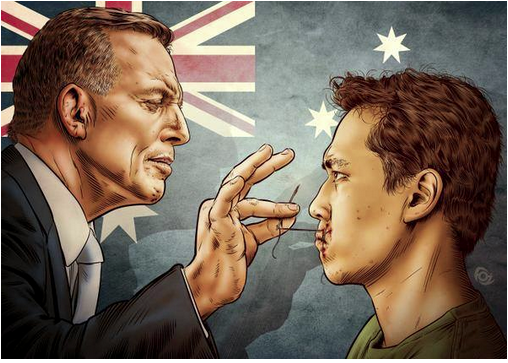 The Greens, meanwhile, have succeeded in arranging an Inquiry into the funding of 'people smugglers' by the Government (indeed, it appears this kind of illegal activity has been going on for years, with ASIS officers doling out the money to the smugglers). The Greens also announced that once Parliament has returned from the Winter recess they will be introducing legislation to make reporting of abuse at the detention centres mandatory, in line with Australian common law.
Should the current Government be voted out of office in the coming elections, then the offshore detention facilities will of course continue under Labor, who have stated that current contracts with Transfield and Wilson Security will be honoured. These facilities will only cease, therefore, as a result of extra-parliamentary actions, probably via the courts – Australian and international.
In summary, it can be argued that in regard to the offshore detention of asylum-seekers, the Government has been exposed as fundamentally criminal in both what it does and in its approach. Specifically, it has been exposed for the funding of 'people smugglers', covering up abuse (physical, mental and sexual) at detention centres, overseeing cruelty at those centres, locking up children at those centres, and arranging for the Australian navy to hijack boats in international waters. The Government can be prosecuted on any or all of these matters, though such prosecution is unlikely to be undertaken by politicians but by NGOs, separately or in collaboration.
Letter from former and current workers at offshore detention centres:
(Note: this letter courtesy of The Guardian – for more on this and interviews with some of the letter's signatories, click here.)
Today the Border Force Act come into force. It includes provision for a two-year jail sentence for "entrusted persons" such as ourselves if we continue to speak out about the deplorable state of human rights in immigration detention without the express permission of the minister for immigration and border protection. This strengthens the wall of secrecy which prevents proper public scrutiny.
We have advocated, and will continue to advocate, for the health of those for whom we have a duty of care, despite the threats of imprisonment, because standing by and watching sub-standard and harmful care, child abuse and gross violations of human rights is not ethically justifiable.
If we witness child abuse in Australia we are legally obliged to report it to child protection authorities
If we witness child abuse in Australia we are legally obliged to report it to child protection authorities. If we witness child abuse in detention centres, we can go to prison for attempting to advocate for them effectively. Internal reporting mechanisms such as they are have failed to remove children from detention; a situation that is itself recognised as a form of systematic child abuse.
Evidence of the devastating effects of institutional self-protection and blindness to child abuse has been presented before the current royal commission. We are determined not to collude with a system that repeats these same mistakes.
There are currently many issues which constitute a serious threat to the health of those in detention for whom we have a duty of care. The Department of Immigration and Border Protection is aware of these problems and has for years failed to address them adequately.
We are aware that in publishing this letter we may be prosecuted under the Border Force Act and we challenge the department to prosecute so that these issues may be discussed in open court and in the full view of the Australian public.
Dr John-Paul Sanggaran, MBBS M.H.Med B.H.Sc, former IHMS medical officer
Dr Richard Kidd, BHB, MBChB, Dip.Obs., FAMA, Deputy Chair AMACGP, former IHMS medical officer
Dr Grant Ferguson, MBBS B.Sc (Hons), former IHMS medical officer
Dr Ben Hew, MBBS B.Sc, former IHMS medical officer
Dr Alison Bleaney, MBchB FRACRRM OBE, former IHMS medical officer
Dr Merrilyn Williams, MBBS, M. (GP Psych) FACRRM, former IHMS medical officer
Dr Ai-Lene Chan, MBBS FRACGP ObsSC MPH&TM, former IHMS medical officer
Dr John Vallentine, MBBS MRCP, former IHMS medical officer
Dr Jill Maxwell, MBBS OAM, former IHMS medical officer
Dr Sally Manuell, MBBS FRACGP, former IHMS medical officer
Prof Bernard Pearn-Rowe, BSc (Hons), MBBS, FAMA, former IHMS medical officer
Tracey Donehue, secondary school teacher
Advertisement
Judith Reen, secondary school coordinator
Jane Willey, former secondary school teacher
Evan Davis, former senior secondary school teacher
Dr Peter Young, MBBS FRANZCP, former IHMS medical director mental health Services
Steve Brooker, BSc MA, former IHMS director of mental health services
Dr Rodney Juratowitch, MBBS FRANZCP, former IHMS psychiatrist
Dr Amanda Trenaman, MBBS, FRANZCP, former IHMS psychiatrist
Prof Robert Adler, PhD MBBS, former IHMS psychiatrist
Ryan Essex, BHSc, Grad Dip Psych, BSocSc (Psych), (Hons), MHL, MPH, former IHMS counsellor
James Harris, former case manager and residential youth worker
Toby Gunn, former child and youth recreation officer
Samantha Betts, BA, former child and youth recreation worker
Martin Reusch, former humanitarian worker
Timm Knapp, former humanitarian worker
Amanda Lloyd-Tait, former humanitarian worker
Jennifer Dennis, former humanitarian worker
Amy Marden, former humanitarian worker
Prof David Isaacs, MBBChir MD FRACP FRCPCH, former IHMS paediatrician
Dr Hasantha Gunasekera, MBBS FRACP, former IHMS paediatrician
Alanna Maycock, BN RN, former IHMS paediatric nurse
Prof Louise Newman, MBBS PhD FANZCP AM, former DEHAG consultant IHMS psychiatrist
Dr Micheal Dudley, AM MBBS BD FRANZCP, former DEHAG consultant
Prof Caroline de Costa, PhD MPH MBBS BA FRANZCOG FRCOG, former DEHAG consultant
Viktoria Vibhakar, MSW, LCSW, AASW, former senior child protection and support worker
Ashleigh Millard, former adult case manager and social worker
Jaime O'donovan, former social worker, child protection team
Hamish Tacey, BBehavSc, former unaccompanied minor team leader and refugee assistance program case manager
Serena Hansen, former case manager and residential team leader
Marc Isaacs, BA (Com), BA (Int.S), former recreations manager
Note for whistleblowers: anyone who wishes to report on abuse in offshore detention centres will, unless they want to risk imprisonment, have to do so anonymously via the various encrypted facilities available – notably: a) sites that offer GlobalLeaks secure facilities (e.g. Media Direct), b) the Wikileaks submission facility; and c) the Guardian Securedrop facility (see other Securedrop sites too). Users should follow all precautionary instructions on these sites (if those instructions are available).
See also:
Australia: gagging law fails to stop refugee abuse testimonies, leaks & legal challenges
Australian Govt emergency law attempts to make its illegal refugee activities legal