There are a growing number of 'peoples' flotillas – small and large boats – taking direct action and seeking out boats in the Mediterranean Sea carrying refugees who need rescuing. Some of these boats are organised by charities, such as MSF (Medicins Sans Frontieres); others by private individuals or organisations, such as MOAS and with crowd-funded aid. These flotillas complement the rescue operations carried out by the various coastguard services of Italy, Greece and France (as well as rescues by individuals in small boats). This is direct action at its best. A similar model could be applied to the seas around Australia. Furthermore, such a model would be entirely legal and protected by a UN convention – see below…

(Note: the above video is very moving and should be watched unto the end. An MSF video on the MSF/BOAS rescue operations is found at the end of this article.)
A. First, Australia…
As an 'alternative' model to state intervention, the combined MSF/MOAS operation could be applied to Australia, where many people there are frustrated by Government policies that have seen refugees stopped before reaching Australian shores, only to be transported to detention camps on Pacific islands. The Abbott government appears determined to continue flouting international law in this way. Indeed, only today a senior European official contradicted Australian prime minister Tony Abbott's statement that Australia and Europe are in talks on how to stop asylum-seeker boats. European Commission spokesman Natasha Bertaud added that if there were to be talks between the two, Europe would never adopt Australia's controversial asylum-seeker policy. The EU's executive Commission commented that Canberra does not respect the international standard on protecting refugees of "non-refoulement", which is a U.N. principle prohibiting expulsion to a country where they could face violence or prison.
The Australian Government has obligations under various international treaties to ensure that the human rights of refugees and asylum-seekers are respected and protected. These treaties include the International Covenant on Civil and Political Rights (ICCPR), the International Covenant on Economic, Social and Cultural Rights (ICESCR), the Convention against Torture and Other Cruel, Inhuman or Degrading Treatment or Punishment (CAT) and the Convention on the Rights of the Child (CRC). These rights include the right not to be arbitrarily detained. Australia also has obligations not to return people who face a real risk of violation of certain human rights under the ICCPR, the CAT and the CRC, and not to send people to third countries where they would face a real risk of violation of their human rights under these instruments. These obligations also apply to people who have not been found to be refugees.
According to Amnesty International the Australian Government's current policy regarding asylum-seekers policy directly contravenes the UN Refugee Convention, the Convention & Protocol Relating to the Status of Refugees and the Australian Migration Act 1958 in that it is a universal human right to seek asylum by any means in any country, including by boat to Australia. (Note: here is AI's damning report on the detention centre on Manus Island.)
Ipso facto, any Australian citizen or citizens who take unilateral action to rescue asylum-seekers or refugees would be acting legitimately and under the protection of the United Nations and its conventions.
So, having cleared that up, let's get an update on what is happening with the 'peoples' rescue flotillas in the Mediterranean…
B. The Med…
In 2014 more than 200,000 people crossed the Mediterranean Sea to Europe to escape the various conflicts and war zones, with more than 3500 lives lost at sea. This year, already 30,000 have crossed the Mediterranean to seek safety and more than 1,750 people have died. The most dramatic events took place last month when 400 refugees drowned, with a further 800 drowned just a few days later. Only two days ago 46 more refugees drowned as they tried to scramble from their dinghy onto a passing freight ship (see video below).
But here's the good news… Last weekend more than 6000 people crossing from Libya to Europe were rescued in several operations. Of these 369 were rescued on May 3 by a search and rescue vessel run via the newly formed partnership of Médecins Sans Frontières (MSF) and Migrant Offshore Aid Station (MOAS)
MOAS is organised by American Chris Catrambone and his Italian wife Regina and has been operating independently for some months, mainly in the eastern Mediterranean. The 20-person crew on board the MOAS/MSF Phoenix include professional cam-copter operators, search and rescue experts, and medics. They engaged in their first rescue mission less than 24 hours after embarking from Malta. Those rescued were primarily from Eritrea and included pregnant women and roughly 45 children, including babies. Those brought on board by the MOAS crews on Sunday were triaged by the MSF medical team members, who treated people for diabetes, dehydration, conditions related to pregnancy, skin infections and injuries sustained during beatings. All rescued are currently in stable condition and receiving food, water, and other essential items onboard the Phoenix. The people rescued are likely to be transferred to Pozzallo, on the Italian island of Sicily, where MSF has a base. More than 800 people landed there over the weekend and MSF is providing initial medical screenings as well as health care and mental health support to the refugees, asylum seekers, and migrants.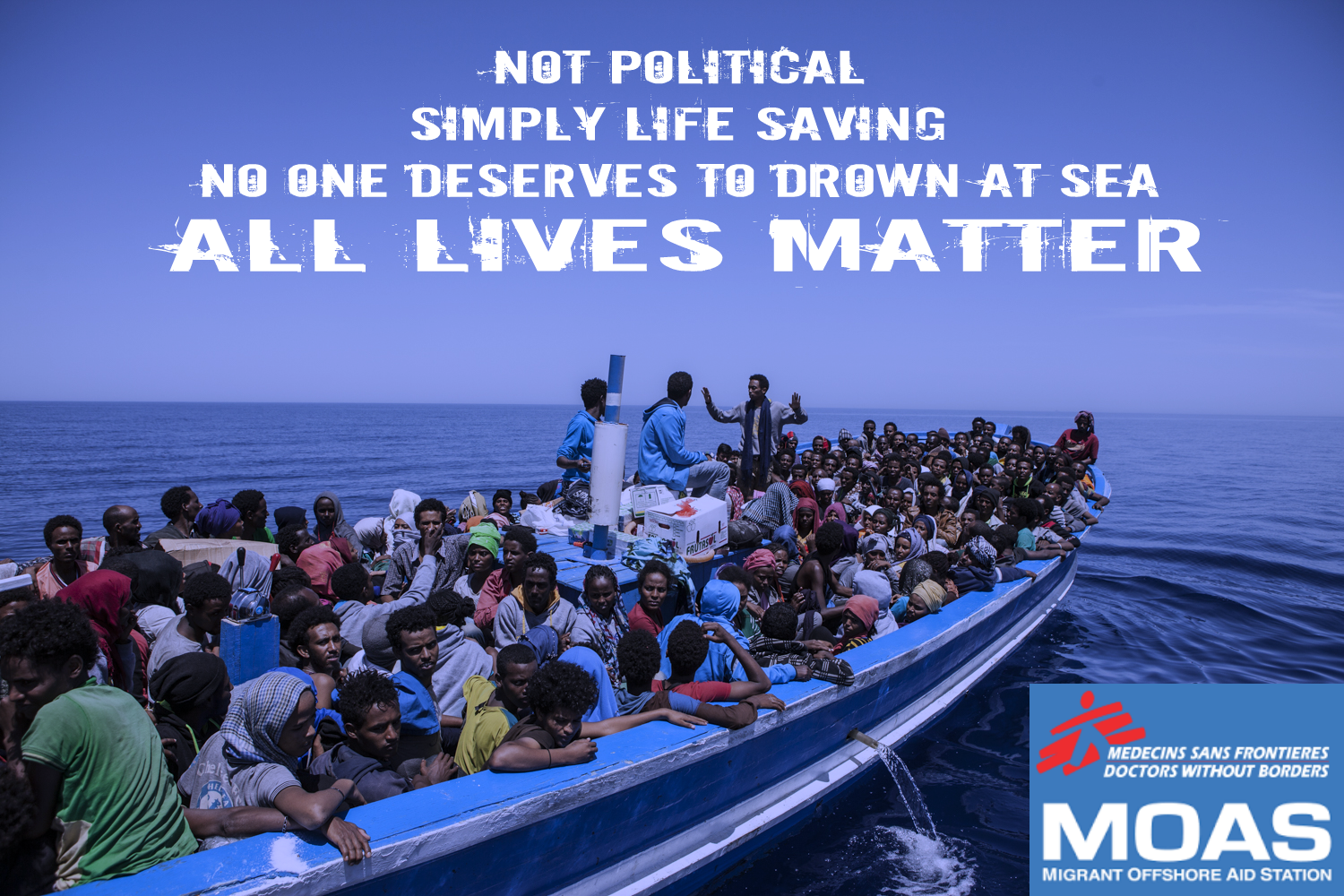 An additional 104 people were rescued early yesterday (Monday 4 May) with the assistance of the Phoenix MSF/MOAS team and then transferred onto a commercial vessel.
Another initiative – though smaller – is 'Sea Watch'. Harald Hoeppner and friends bought a 100-year-old fishing cutter for £43,000. The boat headed for the Med last month and will be based at Malta. The 'Sea Watch' includes a doctor, a paramedic, a mechanic, an interpreter, and an electrical engineer – all volunteers. The boat can take on around 500 people, but Hoeppner plans to seek out migrant vessels then alert the coastguard to organise the actual rescue.
A question?
So, could an MSF or MOAS operation, or similar, be applied to the seas off Australia too? Maybe even a flotilla of rescue boats? It can be argued that international law and humanitarian obligations take precedent over domestic law. In international waters Australian law does not apply; in Australian waters citizens have the legal and moral right to intervene as they see fit, whatever threats the Australian Government make.
For more information on the above operations in the Mediterranean, contact: MOAS – Christian Peregin, pr@moas.eu or +356 79 24 11 87; MSF – Caitlin Ryan, caitlin.ryan@amsterdam.msf.org or +356 99 71 74 26