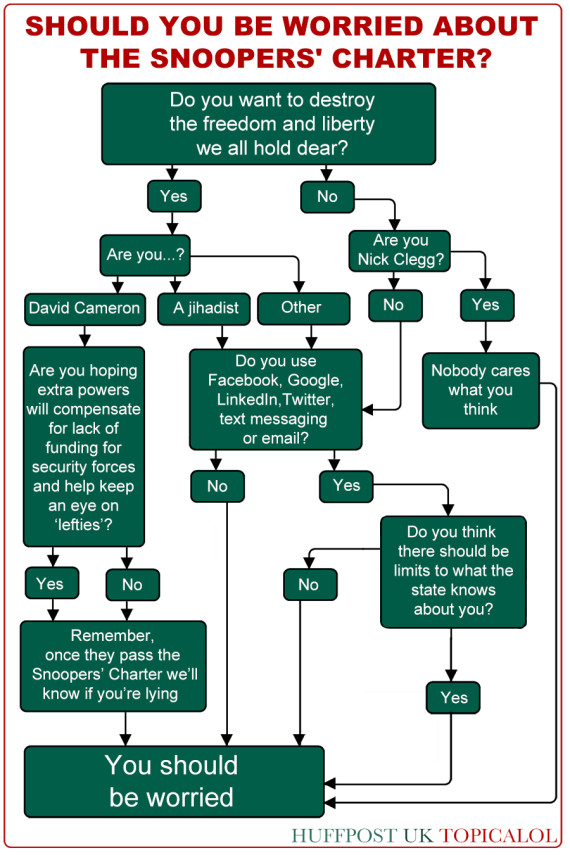 Moves are underway early next week to introduce measures that would effectively transform existing legislation into the shelved 'Snoopers Charter' (or draft Communications Data bill). If this happens, there would no doubt be partying not only in Cheltenham (home of GCHQ) but also Mosul (an ISIS stronghold) for the British intelligence and security establishment will have succeeded in handing over Britain's greatest gift: our alleged liberty.
The British intelligence and security community has to date shown a spectacular lack of intelligence in its ability to devise methods to target its adversaries without compromising the privacy of concerns of the populace. This community does not lack talent and so one can only conclude its solutions are entirely politically based. But by giving into the fear-mongering agenda of the terrorists (aided by the UK tabloids) this move towards total surveillance can only be characterised as a 21st Century version of appeasement.
In just three days' time, on Monday, the House of Lords will debate amendments to the Counter-Terrorism and Security Bill. These amendments have been tabled by former police chiefs, intelligence commissioners and defence ministers and will, if passed, enable the Government to require that all UK telecom companies retain data of any sort for up to one year and be made available to police and the intelligence and security services. This data would apply to the entire UK population. If enacted, these amendments would equate to the 'Snoopers Carter', but via the back door.
The intention is to incorporate these amendments into existing legislation before the upcoming general election.
See also objections to amendments by Open Rights Group.