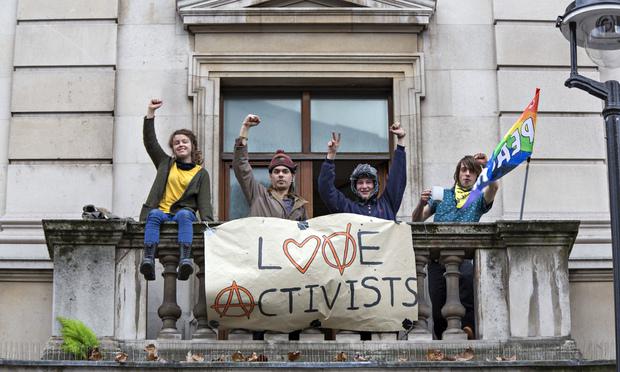 Within yards of London's Trafalgar Square, Cavell House, a former RBS (Royal Bank of Scotland) building at the corner of Charing Crosss Road and St Martin's Lane, was for five days a centre for the homeless, thanks to some enterprising anarchists, who call themselves Love Activists and who squatted the property to be used not only for the homeless but as a food bank and an education centre. Today the property was reclaimed when bailiffs forced their way into the building (see photo below). Details of the company believed to manage the property are provided below.
The squatters had planned an educational agenda that included workshops and films on class inequalities, surveillance (and, presumably, the work of GCHQ) and deaths at the hands of police and security staff. A video interview with the squatters can be seen here.)
The bailiffs arrived at 8am this morning (Wednesday). Most of the squatters left the building, but two took to the ledge of a balcony as a police officer stood nearby. About 10 police officers were outside the building to protect the bailiffs.
Who owns/manages the building?
A search of the Land Registry showed that the property is owned by a company called Greencap Ltd, which is registered at Ogier House, St Helier. A search of Companies House showed that there is an Australian company called Greencap Ltd but that this company had been dissolved. According to an an earlier report in the Guardian "A call to Ogier House in the Channel Island of Jersey revealed that Ogier House has now changed its name to Elian Private Wealth… A member of staff at Elian agreed to look into what had happened to Greencap but said later: "Unfortunately we are unable to assist with your queries." EPW's  London contact details are as follows: 6th Floor, 11 Old Jewry, London, EC2R 8DU. Phone +44 20 7160 5000; email london@elian.com. The Guardian later confirmed that a company called Greencap had issued an injunction against the squatters this morning.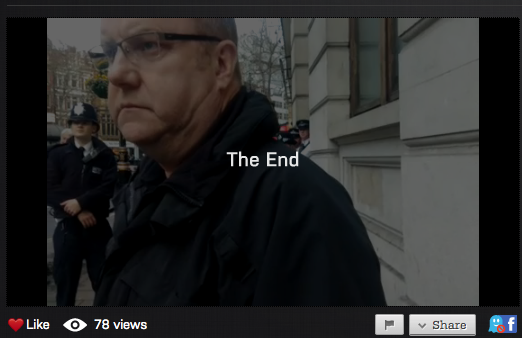 Bailiff, protected by police, outside squatted building